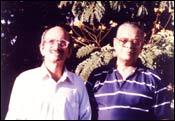 Internet is a powerful medium which can be used to promote/educate . . . and, perhaps, rediff could support/sponsor for free web hosting for NGO's like Global greenways
, wrote a Mandaveli, Chennai, resident in response to a Rediff.com feature by Shobha Warrier. The piece, about a tree-loving duo, Mr V Subramaniam, a retired RBI official, and Dr R Madhavan, was written in 2003. Fellow blogger Naveen Chimmanda fwded it to us the other day.
And this evening, Dr Madhavan, who took my call from Mysore while attending to patients in his Chennai clinic, said matter-of-factly he didn't have time for the Internet and rarely checked mail, though he had an ID. His Global Greenways that has planted trees in thousands over the past two decades doesn't have a website. Dr Madhavan pleads lack of time "for that sort of thing", though, I sense, it is not uncommon for folk of his generation to be unaware of the potentials of the Internet and of what the web can do to promote a cause or an idea. It is for the public-spirited techies to initiate them into the ways of the Internet, and, as Mandaveli Bala suggests, sponsor free web hosting for Global Greenways.
"We don't plant any longer; only supply saplings," said Dr Madhavan, who, with Mr Subramaniam, used to go round Chennai on a tricycle loaded with saplings, looking for vacant space to plant them. When they started this, some two decades back, they were termed by some as crackpots. Within a year of their start, the 'crackpot' duo had planted over 400 saplings in Mandaveli.
When word spread about their activity, the duo were invited by residents elsewhere in the city. And they obliged, planting it for free, on the only condition that the residents undertook to take care of the plants. "We used to get calls from northern Madras asking us to plant trees, and we would travel more than 20 kilometres to plant them," Mr Subramanian is quoted as saying . Dr Madhavan gifted saplings to all his patients.
When I asked him about funding, he said it did not cost them much to supply saplings. He has a nursery of his own. Tree-guards were sponsored by the United India Insurance Co., says the Rediff article. Dr Madhavan, who has a farm in Inchampakkam, said his nursery could supply upto 500 saplings at any given time; the doctor also kept saplings in his Mandaveli house, presumably, to give them away to his patients.
Read Shoba Warrier's Rediff Special -
How green is my Chennai
.